Drum Making & Rattle Making Workshops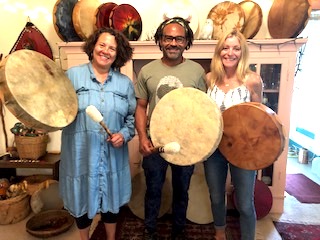 Ann Keller gives drum and rattle making workshops in Mt Shasta, California. Come and create your own drum in the vortex energy of this sacred mountain.
I begin with a ceremony, first smudging each participant. Then I call the spirits of the animals, plants, and minerals who have given themselves for our drums, rattles and our lives. Then I lead you through the process of making your drum.
One can set up their own drum making group and date.
An additional charge of $35.00 will be added for individual workshops.
"The sacredness of the space that was created by Ann in which to make a drum was instrumental in creating a drum that is very powerful and sings with energy. I use my drums and rattles everyday to say prayers for healing and to call in the Spirits of the land and my own helping spirits. I love the sound the drum makes when elk, willow oak and I play together…what sweet sounds ~ Susan Brennan, Weed, CA
Please call Ann at 530-926-3416 or cell 530-859-9252 to further discuss Anns Drums workshop arrangements.
---
DRUM MAKING WORKSHOP DETAILS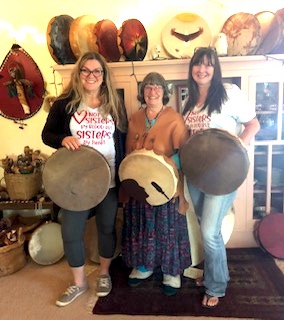 The cost of the workshop is based on the size of the drum and the hide you choose.You can make a drum with natural or dyed elk hide, or natural deer hide, or natural horse hide, or natural buffalo hide.
14″, 15″ and 16″ drums cost between $240.00 – $280.00
18″ drums cost between $270.00 – $290.00
You will pick a pre-made beater made from sheep skin or leather to go with your drum.
" Making my own drum was magical but the real surprise was having Ann dye the elk hide by tying it and soaking it with crushed black walnut shells.  I never expected the design that emerged.  It gave me a different view of myself which the drum still helps me to carry." – Nikki Lee Hill ~ Weed, CA
Custom dyed or tie-dyed hides are available in blue, red, brown, purple, forest green, and turquoise. There is an additional charge of $20.00 for custom dyed hides.
Drum workshops are 6+ hours long. workshop size limit is 6 participants
---
RATTLE MAKING WORKSHOP DETAILS
You can make a rattle with Ann. $95.00 for a 4 to 5 hour workshop
When I make rattles, these are the contents I put inside;
beans and corn to feed the spirits
ant hill rocks to bring in Mother Earth energy
pebbles from sacred sites, beaches and mountains
various crystal pieces to bring in qualities one desires
So when you make a rattle, these are available for you to use. You may have some pebbles from sacred places you have been and can be put in your rattle.
Birthing a rattle is a very creative and enlivening process.