Meet Ann Keller… Master Drummaker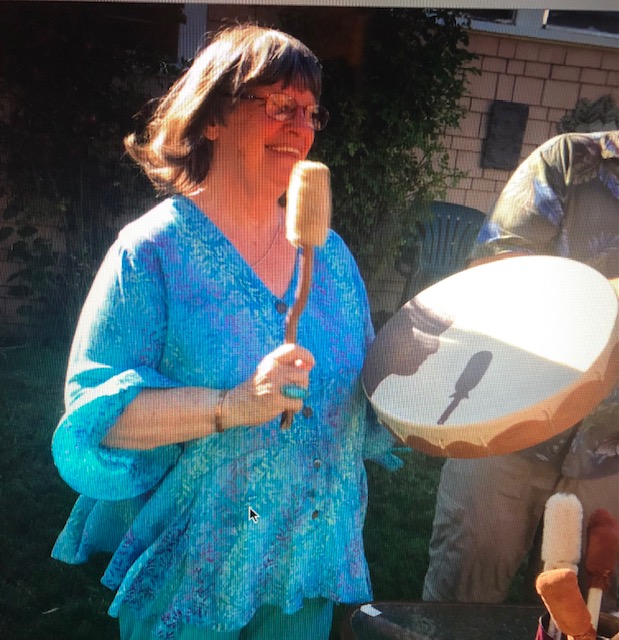 Ann Keller grew up on a farm and had a close relationship with the natural world.  She then brought her gifts and talents to inner city children where she taught elementary school for 38 years.  Now she uses her teaching skills and connections with nature in her drum and rattle making workshops.  She made her first drum in 1990.
" I was a co-leader in a women's ritual group and met a drum maker who led each of us in making our own Native American style hoop frame drum. I knew I would teach others how to do this and began giving drum making workshops in 1998."
"Over the past 20 years, I've learned about and participated in many Native American and indigenous spiritual ceremonies, such as ;sweat lodges, making prayer ties, and doing other rituals.  I did these with a  Lakota man and his wife, David Kukkola from the Saami tribe, and Bruce Elijah from the Oneida  tribe. I did intensive body spirit work with these medicine men focusing on inner spirit consciousness.Through my work with them, I found my medicine path."
"I took the basic Journey Workshop with Michael Harner who was the founder of the Director of the Foundation for Shamanic Studies in Mill Valley, California. I learned how to journey with the heartbeat of the drum to get healing advice from my spirit allies. Then I formed a women's group in which we drummed to journey."
" Each drum, rattle and drum bag I craft, is done in ceremony honoring the spirits of the animals, plants, and minerals who give themselves as healing tools for us."

"Drumming leads me into a deeper spiritual connection with myself and all the spirits around me."
Anns Drums are currently in the hands of people in Canada, Europe, Japan ,China, Australia and here in the U.S.
Ann welcomes your feedback and inquiries by email: onewholaughs (at) hotmail.com